I am a child of TV. Can't live without it. I was born and raised in an era where High Chapparal was 'THE" adventure series not to be missed and Quincy M.E. was 'THE' C.S.I. of the old days.

TV was different back then. Sex and violence were dealt with class. There are no PG ratings to be had. Everybody can watch anything, and the issue of censorship; almost nil.

I can't remember exactly when colour TVs made its way to this country -- I was too small then, I think-- but what I remember was that I was a little bit upset because our black and white Sierra TV was still in very good condition that nobody even talked about getting it replaced with a new coloured one. How I pouted for months for not being able to watch my favourite cartoons in technicolor!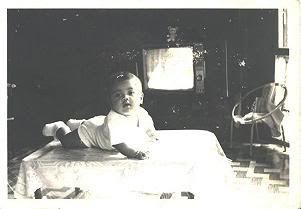 Me And My B&W TV
As a kid, I think my whole life revolved around TV. I even made my own TV list to refer to at all times, just so I don't miss my favourite shows - Woody Woodpecker, Bugs Bunny, The Flinstones, Ultraman, just to name a few.

My mother still talks fondly about the old TV shows like Dr. Kildare and many others, which I don't even know because that was way before I was born. But I get why she misses shows from those times, because I miss some of those from my childhood too. Though very different, it's not as if TV shows back then were way better than the ones we have now. It's just that it seems that anything from the days of yore always manage to make you feel good about something. It's the nostalgia factor methinks.

(On the other hand, I think my mother loves Dr. Kildare simply because she's secretly in love with Richard Chamberlain – she watched Shogun religiously, and would always plonk herself right in front of the TV if this guy is on any show - but that's another story.)

And what about the local TV shows, eh? Remember Opah? Gosh, I can't for the life of me remember the essence of a local TV drama I saw a few weeks ago -- something about a boy who was adopted -- but I can remember Opah like it was yesterday.

Looking at some of the stuff on TV now, I feel like puking my guts out sometimes. Ever see "What Women Want"? That was a sad sad excuse of a reality show. Then there's these countless talk shows hosted by a multitude of young, pretentious, not-so-bright glamour-babes and glamour-blokes whom I suspect can't even spell sensational yet tries to sensationalize everything from the choice of wardrobe to the choice of life partners. And what about those silly catchphrases that these kids on TV come up with to make themselves 'one of a kind', so to speak, such as "Watchaaa!!" and a host of other stupid ones? Arrrghh!!! Don't get me started on that!

I wish someone on TV can come up with something better to watch, something that doesn't make the audience cringe, something that is smart yet easy to digest, something we can all be proud of. I hope this is not just wishful thinking. Perhaps, somebody is working on something along this line even right now. Guess we just have to wait and see if that ever happens.

In the meantime, can somebody bring back Opah? Man, I love that show. Loved Kathy, Burn and Boboy – Opah's grandkids, and of course Opah herself, that dear dear old grandma whom everybody loved. And in the early episodes, there was the late Mustafa Noor playing hubby to Yasmin Yusoff's character. I absolutely loved the guy! For some strange reason, I remember one particular line he said,

Mustafa Noor: (Reading) Ibu kucing sangat sayang kepada anak-anaknya (paused, eyes glazed and deep in thought, then said, almost as if subconsciously), tapi tak semua ibu sayang kepada anak-anaknya…."

Aduh….. sayu siot!

I love the old TV shows, really.

Gawd, I'm OLD....