When I was 2 years old, my dad died. It was sudden, it was shocking, it was totally unexpected. He was, after all, in the prime of his life, and nobody in their right mind would think that he would leave so soon. And everybody who knew him got the shock of their lives that day.

To this day, we never know what caused his death. Some say it was a heart attack, others say it was something else, but one thing was certain, he was fit as a fiddle hours before his passing. My sister the doctor remembered most events leading up to it and concluded from the massive headache he reportedly had, that it was brain aneurysm.

Even so, we can never be sure, but I suppose the posthumous diagnosis would provide closure to some of us.

As for me, I am indifferent to the whole thing. It is not as if I am uncaring, nor heartless, but realistically, I don't remember my dad at all. If it wasn't for the many pictures of him that we have all over the house, I wouldn't even know what he looked like.

I was told that when my dad's body was laid on the bed before being prepared for the burial I actually climbed up and lied next to him. I guess I must've been wondering why everyone was watching him sleep.

In the days following the funeral, I waited by the front gate in the evenings when he usually came home from work. This went on for weeks until I finally stopped waiting. I guess this was the time when I finally forgot all about him.

In the years that followed, I was always told by my family that we all love him and miss him and I echoed that sentiment whenever questions about him were asked of me.

Later, much later, when I was old enough to figure things out on my own, I realized that I did not miss him at all. How can you miss someone you can't even remember? How can you love someone you never knew?

Perhaps I did love him as a 2 year old, but that feeling must've diminished when I eventually forgot about him. My family put the idea of me loving him and missing him in my head when I was a kid and it remained there for as long as I couldn't figure things out on my own.

Growing up without a dad, but with 2 older sisters and 2 older brothers who doted on me, I never had the time to be jealous of my friends who had one. But when I was in school, I resented every assumption that people make about a kid without a father.

I remember once, back when I was in Standard 4, a few days before the Raya holidays, a teacher called me and a bunch of other students to the headmistress' office. There, the HM gave duit raya to the students who have lost their fathers. It is customary for people to give duit raya especially to anak yatim, so I took it without a second thought. It was after all, just duit raya. Then back in the classroom, when my friends found out about it, they got all sympathetic and started giving me money. What's up with that?

My pride was hurt, my ego bruised, I refused to take their money and I threw a bit of a tantrum if I remember correctly. It's true my dad died, but that was years before, and we didn't become a charity case upon his demise. In fact I think we were much better off than some of the kids who wanted to give me money. As if their 20 cents were going to make a difference!

I understand now that they meant well, but sometimes, such display of sympathy is insulting rather than welcomed. Nevertheless, I forgave them for their ignorance.

When I was in Form 1, my English teacher asked us to make cards for Father's Day. Then, she told us to write our addresses on the envelope so she could mail it out to our dads. I wrote mine to *Batu 2, Tanah Merah, Jalan Masjid, (Poskod and Town). The teacher never knew where the card was sent, or not.

To this day, I don't really know what fathers should be like as I have no frame of reference to it at all. I see my 2 brothers having different styles and approaches in dealing with their kids, but I know that they're both good fathers in their own respective ways.

My mum did everything for me. She wasn't perfect, but she did everything she could to raise her kids. And I think she did a good job considering we all turned up decent (At least, I think I did!).

People always say that you can't miss what you never had. Well, I did have a dad for the first 2 years, so I suppose I did miss him for a while, but after he was gone, I moved on and I missed him no more.

As for loving him, I cannot say for sure that I do. But if there is someone whom I can love even without knowing or remembering, then that someone must be him. For I'm sure, had he lived, he would've loved me no matter what.

Happy Father's Day dad, wherever you are.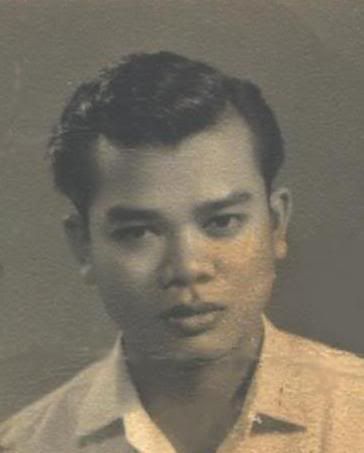 * Batu 2 refers to the 2 stones at a muslim grave.