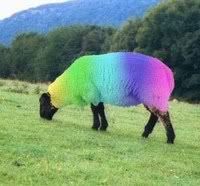 I heard this piece of celebrity news on the radio this morning about Madonna being criticized by animal rights group for dyeing her pet sheep in multicolour for a Vogue photoshoot. I laughed so hard I almost had a fender bender.

I don't understand why the animal rights groups are kicking up so much fuss about it. Dyeing sheep in various colour isn't gonna make them sick, unless of course if they use toxic colours, which I'm sure they didn't. At the most, the sheep will feel a bit weird about being different from the rest of the sheep in their flock. But even so, who knows, the sheep might actually enjoy being different and may think that for once, they get to wear colour just like human beings.

Besides, even if the colours don't wash off , sheep gets sheared don't they?

Read more here

Among others, the animal rights campaigners are saying that it is sending the wrong message to the public and that if there are copycats, they may use the wrong type of dye and may actually harm the animals.

Hmmm, sounds like some people we know here.

(On another note, I'm imagining The Sheep at the office in technicolour. Must be funny.)

-------------------

Animal torture happens everywhere. From Africa to Asia to the good old U.S of A. In fact, more often than not, it happens in our own backyard. We just don't realize it much because we think it's nothing.

Here, I wrote about how much I love animals, especially my fishes.

Then here, I wrote about torturing insects while proclaiming that I love animals.

But, animal lover that I am, I have been known to let them starve and die.

Yesterday morning, as I came down the stairs, I saw one of my fishes floating in the fish tank. Mork has died. I'd like to think that he died of old age, considering I've had him and Mindy for a few years now. But my gut tells me that he died of starvation, because I always forget to feed them. Parrot fishes are actually kind of hardy. They can go a long time without feeding. But even so, if you do it often enough, they would be malnourished and obviously will get all sorts of disease. So, all in all, I think I am totally to blame.

Mindy is left all alone now, but I think, her days are numbered too. She just hid in the corner of the tank refusing to eat when I tried to feed her this morning. She moved so slowly too, like she has lost all the will to live. Maybe I should get her a new partner. Maybe I should take her to see a shrink.

Anyone knows where I can find a fish therapist?

--------------------

When I was a kid, I used to bully (or torture, depending on how you look at it) my cats despite loving them with all my heart. I remember I used to pull a whisker of my cat and then shoving it up the cat's nose. He will then sneeze, and will try to lick his nose clean. I would then quickly close his mouth just as he was doing that, thus leaving his tongue hanging out.

All of that was because I wanted to study the cat's tongue. So, out came the magnifying glass and ice-cream stick, and the torture will go on till I notice the cat's eyes pleading at me to let go.

I don't know why but I did do that 'experiment' a couple of times to different cats. Didn't feel a speck of guilt back then. But I do now.

Thank God I never did anything worst than that.

----------------

As for colouring animals like Madonna did, yes, I did that too. Except that I used my mom's red food colouring, and I didn't even manage to colour them right. Worst, the colours won't come off my hands so I was caught, literally red-handed.

Padan muka when I got my punishment later.